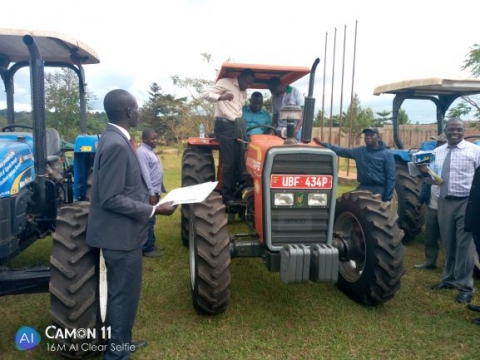 Event Information:
District leadership handing over tractors to farmers' groups
The district leadership has today handed over 3 tractors to the following 3 famers' groups from Bbaale and Ntenjeru North constituencies.
1.Kayunga Farmers' SACCO composed of 2000 members from Ntenjeru North Constituency received tractor No. UBF 434P
2. Kwagala Galiraya Agricultural Marketing Cooperative composed of 700 members from Bbaale constituency received a tractor Reg No. UBE 750Q
3. Ntenjeru North Master Multipurpose composed of 900 members from Ntenjeru North Constituency received tractor No. UBE 747Q
While handing over the tractors to the beneficiaries, the District chairperson Mr. Sserwanga Tom thanked the central government for the support it had provided to the farmers of Kayunga district which he said will enable them to increase on their agricultural productivity. He advised the beneficiaries to effectively utilize the tractors for poverty alleviation.
The Resident District Commissioner Mrs. Margret Mwanamoiza Kikomeko noted that, the tractors were being provided in fulfillment of the NRM Presidential manifesto pledge in regard to transformation of the economy from a peasantry to modernized economy and requested the leaders of the beneficiary groups to avail the tractors to other farmers at an affordable cost.
 According to the District Production Officer Dr Mugabi David, the beneficiaries were selected by the NAADS secretariat through a competitive process but after meeting the required criteria and emerged as the best groups that were eligible to receive the tractors.
The beneficiaries are required to deposit 10% of the funds that were used to purchase the tractors.
The Deputy Chief Administrative Officer, Mr. Otim Benson Humphrey, informed the beneficiaries that these tractors were a property of the government which had to be handled with care and advised them to service and maintain them from authorized garages. He warned that the government will not hesitate from withdrawing the tractors from them if they mishandle them.
He said that Ntenjeru South would be considered during the 5th dispatchment.
The function was later crowned with an Agreement signing function between the beneficiaries and the government being represented by the Deputy Chief Administrative Officer.
In attendance was the RDC, deputy RDC, DISO, NRM party representatives, farmers among others
Date:
Tuesday, 04 February 2020