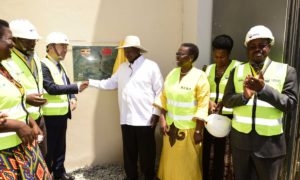 Event Information:
PRESIDENT YOWERI MUSEVENI COMMISSIONED ISIMBA 183MW HYDRO POWER DAM PROJECT
President Yoweri Museveni Kaguta on Thursday 21st March 2019 commissioned Isimba Hydro Power Project( IHPP) 183 Mega Watts , Its located in Nampanyi village, Busaana Sub county-Kayunga District along the Victoria Nile.
The President said that Isimba will boost Uganda's electricity generation capacity, which is a booster to the industartalisation sector in the country. 
The dam was constructed by China International Water & Electric Corporation (CWE) at a total cost of 567.7USD Million and 85% of this contract value was a loan from the Export Import (EXIM) Bank of China where as 15% a direct contribution from the Government of Uganda.
The plant was designed with 4 installed capacity of 45.75MW, with a total rated discharge of 1,375 m3/s.
A double tranmission line starts from the Isimba Hydro power plant switchyard (132kv) and ends at Bujagali Hydro Plant switchyard (132kv)
The President thanked the government of China for the soft loan that they provided to the Government of Uganda that has enabled them to construct this dam and also the Southern bypass and commended them for being reliable partners.
He however condemned people who sabotage government projects that benefit the nation for their individual selfish interests and cited an example of some residents who filed some cases alleging that the project had used their rocks in the water without compesating them, yet they had already been compesated. 
Venue:
NAMPANYI VILLAGE-BUSAANA SUBCOUNTY-KAYUNGA DISTRICT