You are here
CLOSURE OF USHA IN KAYUNGA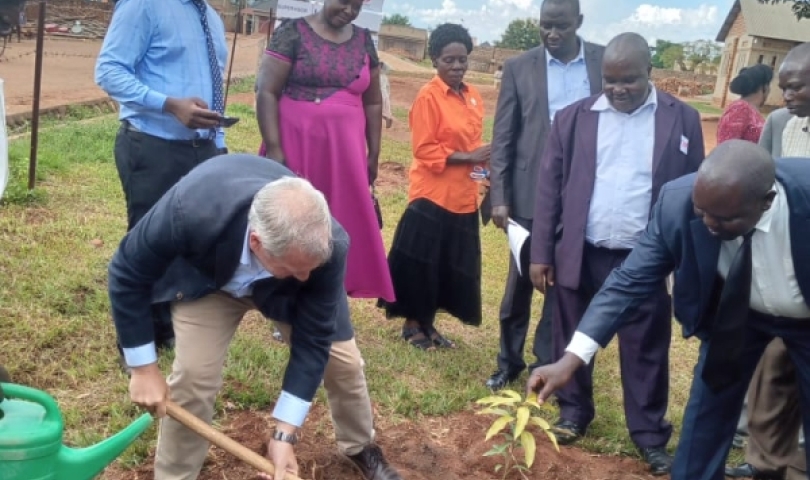 The District leadership held a close out meeting with Officials from Uganda Sanitation For Health Activities (USHA) funded by USAID at Katikomu hotel in Kayunga District. USHA signed a memorandum of understanding (MOU) with the District with an aim of increasing access to sustainable sanitation services and promote key hygiene behaviours at households, Schools and Health facilities. The purpose of the meeting was to discuss the USHA achievements and sustainability of the projects after their departure.
Mr Jonathan Anis the USHA Director Thanked the DLG, political leadership, Technical support structure, teachers and community for the support and cooperation rendered to them until the completion  of their goals which include  construction of boreholes, rain water harvesting tanks, latrines, training pupils and teachers on how to maintain the facilities, in kind grants like providing 5 motorcycles,2desktop computers and 1printer to support in supervision and monitoring of sanitation in the district. He further emphasised on the sustainability by the district leadership to plan and budget for the maintenance of the projects.
The DEO Dr Bubaale Dan thanked the USHA officials for their efforts towards improvement of sanitation in the District. He said Kayunga was still below the real standard since only 3 sub counties  were considered out of  13 and requested for more support.
The District chairperson thanked the USHA officials for their efforts and requested them to sign another MOU with the district for continuation of the projects most especially the 10 sub counties.
The team later proceeded to Busana RC primary school for commissioning of the new gender segregated latrine for girls.The Head teacher Mr kintu Alloysius appreciated the USHA officials for their efforts which has risen the population from 400 to 620 Pupils. He however raised challenges of lack of latrines for teachers and meals for pupils.
The RDC Hajji Dumba Moses thanked the USHA officials for the projects and The District leadership for lobbying wisely. He pledged a classroom block on behalf of the District heads to cater for the rising population and requested the Headteacher to organize and invite him for a parents meeting so as to solve the challenge of feeding amongst learners.
Updates

Opportunities

Partners